Are you planning to visit Turkey? Checking for your itinerary? Does it include all the famous tourist places? Are you planning to do some shopping too? For shopping, the right place to go for is Grand Bazaar in Istanbul. In this article, I will tell you a little about Grand Bazaar, the different types of jewelry available in the Grand Bazaar, and why you should buy it here.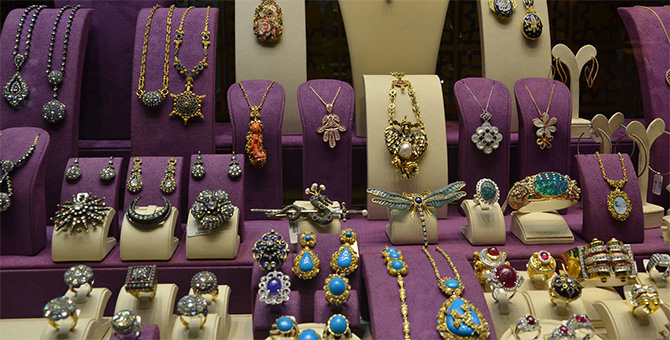 Grand Bazaar, Istanbul
It was built in the 15th century, spread over 30,700 square meters with over 60 streets. There are more than 4000 shops and 500 stalls that sell jewelry, antiques, spices, Turkish lamps, ceramics, kilims, food, etc. There are shops where live things are made to order. Also, it is one of the most visited tourist places in Turkey.
Types of Jewelry at Grand Bazaar
Experienced craftsman at the jewelry market in Grand Bazaar make wide veriety of jewelry for customers: gold, silver, precious stones, leather elements, cool couples bracelets and semiprecious stones earrings.
Sevan is famous for his rings that are made of tiny wearable sculptures. His craftsmen cut the stones, glaze it, paint, do calligraphy and make sculptures too. Some big collectors and special stores display his masterpieces.
· Hand engraved jewelry by Berç Melikyan
He is one of the known goldsmith and hand engravers in Turkey. He uses an iron pencil; thinner than hair strand to engrave precious metals. He gets inspiration from the Turkey culture and portrays it in his jewelry craftsmanship.
Surmak's shop was opened in 1980 from where he started creating functional jewelry by embedding engineering techniques in it. He also creates special orders, called hot couture on demand of customers.
· Colorful jewelry by Topkapı Özavar
This shop sells colorful jewelry which is mostly replicas of big brand collections.
Arman started his apprenticeship from Grand Bazaar and his expertise lies in modeling jewelry from wax rather than metals. He likes to play with colors and uses silver and bronze to accentuate designs and incorporates them in his sculpture based jewelry.
Manuk's workshop focuses on minimalist designs while creating his jewelry pieces. His jewelry is inspired by raw gemstones and he creates pieces that show the natural beauty without any polishing of those gemstones.
· Mythological inspired jewelry by Aida Bergsen
Aida creates jewelry with different themes and depicts multi-culture. Each of her wearable sculptures is hand-carved in wax then transformed into timeless jewels using traditional goldsmithing techniques.
· Vintage jewelry by Timuçin Jewelry
This shop is a treasure hunter's paradise as it sells rare diamond cuts, vintage designer jewelry, and collectible timepieces.
With so many varieties of jewelry available in Grand Bazaar, you can also bargain sometimes. You need some good time to search your style jewelry and get the best vintage jewelry that stands out.
You can get gold, silver, imitation, metal, and many other types of jewelry all in one place; Grand Bazaar, Istanbul.
So, plan your trip to Turkey and do visit Grand Bazaar to add some good pieces of jewelry in your jewelry collection.