Guangzhou is the capital of Guangdong province and third biggest city in China with population of around 12 million people. It was founded back in the 3rd century and it has been a merchant's hotspot ever since, but also the one of cultural exchange. Guangzhou was influenced by foreigners very early in its history, therefore it is significantly different from some other parts of China. People in the Guangdong province, which is the richest in China, have developed a unique lifestyle, not so similar to "traditional China". What is nowadays known world-wide as "Chinese food" traces its origins back to this very province.  While touristic offer is diverse, and there are many sights to see, most of travelers come to Guangzhou for two of the simplest pleasures – shopping and eating.
In China, probably for some cultural reason I'm not familiar with, different products are sold in designated districts or markets. There is a spice market, dry food market, a market for plumbing supplies, and this list goes on and on. Just so you get the right perspective – everything is contained in individual zones. Within these zones you can find dozens and sometimes even hundreds of small shops, that are selling pretty much the same merchandise. This is pretty good for customers since you can easily find lower prices in adjacent stores. Bargaining also plays a key factor when it comes the final expense, but in these areas products are sold by a wholesale price most of the time.
If you are looking for some well decorated, fancy shops, Guangzhou Watch Market, located on ZhanXi Lu in Yuexiy District, is definitely not your thing. It is the biggest watch market in China, and probably in the world, but don't think that it all fits inside one department store. In this area you can find several wholesale centers, but also countless small shops.
Once you first get inside one of these mall-like buildings, it is overwhelming. The "warehouses" are filled with hundreds of sellers, each showing off the goods in their booths, roughly estimated between 500 and 1000 watches each. It is plausible and highly probable that this is a place from which all the fake watches in the world originate. While this may seem like under-the-table kind of deal, there are many police officers in front of these department stores, therefore I concluded that this kind of doing business must be regulated in some way.
As you walk through the mall, the sheer scale of it and the quantity of watches available will probably impress you. However, once you get out, you will come to realize that it is just one of many department stores of that kind in the proximity. Initially unimaginable large number of watches you've witnessed is just a tip of the iceberg. After a while you won't be able to process everything you see so it is probably a good idea to recollect your thoughts and decide what kind of watch would you want to buy.
Guangzhou Watch Market is a Rolex replica watches heaven. In all honesty, they are well made and extremely affordable, however, in order to get some of the high-end merchandise you will have to dig deeper. If you don't specifically ask for Swiss movement chronometer, you will keep stumbling upon piles of Asian movements. If you are persistent enough end specifically ask the sellers to show you the best they've got, you will find some of the authentic original watches, fresh out of the factory, from many high-end manufacturers.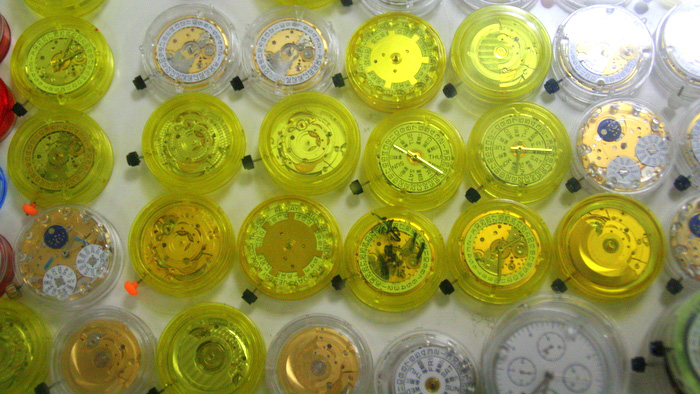 In the basement of some malls are areas where you can find any watch parts and components you could ever need. As you would probably guess by now, there are designated stores and counters for each of the parts. At one spot you will find nothing but watch movements, in another there are just empty watch cases.
Prices are affordable and additionally negotiable most of the time. If you like bargaining, it would be a good idea to learn few of the Chinese phrases to try and win over the seller with your charm. Have in mind that prices always vary, and merchants will try and rip you off if you allow them! It is very important to be confident, look interested about the product you like, but don't be over-enthusiastic. This will give you away, and the seller will notice that he can get more money from you than he initially intended. Once they try to persuade you their goods are authentic and original, let them know you are aware they are fake and that they were acquired for a far cheaper price.
All things considered, there is no reason you should do your chronometer shopping in any other place but Guangzhou Watch Market, if you ever find yourself in Guangzhou.